Our Mission Statement
Oakbrook Family Dentistry, P.C. is dedicated to providing excellence in dental care, personal service, and education to enable our patients to achieve and maintain their oral health throughout life.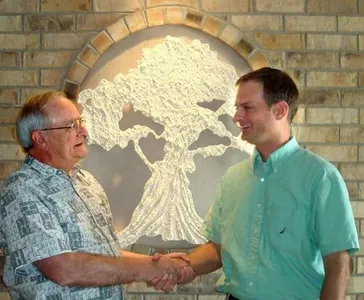 History of Our Practice
Oakbrook Family Dentistry was founded in 1982 by Dr. Thomas Janecek and his wife, Sharon. The Janeceks chose the name "Oakbrook" after the name for the then newly-developing Oakbrook Area in Dorchester County where our practice is located. In 1989, Dr. Janecek relocated the practice to its current location on 1806 Trolley Road. Dr. Janecek personally designed the new office and played a major role in various stages of its construction.
In September 2009, Dr. John Poole joined Dr. Janecek at Oakbrook Family Dentistry. Dr. Janecek has since retired from practicing dentistry, but he remains involved with the dental field through his dental office design company, Dental Design Solutions, Inc. ( Please see links section.)
Our practice is proud to be a part of the Oakbrook Community, and we are honored to continue to serve many of the same families who originally came to our practice in 1982.
Our Facility
We are proud to provide a state-of-the-art facility for the highest quality dental care available. It is one of our top priorities to protect the well-being of our valued patients. For this reason, our office meets and surpasses all OSHA (Occupational Safety and Health Administration) and CDC (U.S. Centers for Disease Control and Prevention) standards. We are confident that you will feel right at home in our office.